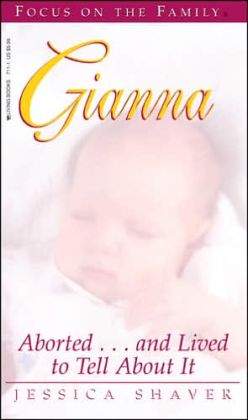 Gianna: Aborted, and Lived to Tell About It is an interesting biography of abortion survivor Gianna Jessen, authored by Jessica Shaver Renshaw and published by Focus on the Family. Focusing not on issues, but on Gianna's story, Jessica relates the pain, fear, determination, hope, joy, and humour of this heroic woman's life. I barely put this book down before finishing it!
Gianna entered the world crying, like most newborns. But she wasn't supposed to. Feeling alone and vulnerable, her 17-year-old mother listened when Planned Parenthood told her she couldn't raise a child because she lived with her mother, who was already on welfare. Remarkably, Gianna survived the saline abortion with only mild cerebral palsy.
Although Gianna's determination served her well in learning to live with her disability, it didn't make life easy. Becoming frustrated one day as a 12-year-old, Gianna asked her adoptive mother the reason for her cerebral palsy. This wasn't the first time Gianna asked, but it was the first time she got the answer she was looking for. On finding out, Gianna thought for a few minutes before saying, "Well, at least I have cerebral palsy for an interesting reason!"
Soon after, Gianna filled her first speaking engagement, and shared her story at Crusade for Life's Mother's Day Banquet. And thus began her speaking career. Being an aspiring musician, Gianna's answer when asked to speak was, "Yes, as long as I can sing!" She now travels the world, speaking (and singing!) at various pro-life events. Her music career also included singing for October Baby, a Christian film inspired by her story.
This book was written to share Gianna's journey, and not to argue on issues. I think this purpose was achieved in this inspirational biography.